Art of Hosting – a full evening long]
(picture credits: Frits Ahlefeldt, license: CC BY-NC-ND)
Yesterday I attended an evening full of meaningful conversations at Bregenzer Salon in – you guess it – Bregenz (Lake of Constance).
The evening was based on methods and elements from the Art of Hosting and the main part was having a Pro-Action Café together. Starting at 7 p.m. twelve individuals gathered together and were warmly welcomed by Ursula Hillbrand and Peter Brattinga who are the hosts of Bregenzer Salon.
After getting to know each other a little bit and checking-in to let grow an atmosphere of trust, we started with talking about listening… .
4 levels of listening
Theory U developed by Otto Scharmer postulates four levels of listening. First we talked about these four levels which are (from top to bottom, from "easy" to harder to parctise – but way more effective):
Listening from the habit ("downloading")
Listening from the outside ("listening to the facts")
Listening from within ("empathic listening")
Listening from the source ("generative listening")
Topics' collection
After the short intro on listening, we started gathering topics which were brought by the participants for this evening. Even though I already attended another Art of Hosting evening (mainly about story harvesting) I again was surprised and touched how personal and deeply meaningful the topics were. They dealt with freedom, with emotional intelligence, with separation versus connectedness and so many aspects more.
'Good' topics
In order to be a "good" topic for the people participating in the Pro-Action Café it is recommended to phrase the topic in a question rather than bring a plain statement. An open question is expected to open the mind and let 'thinking space' grow… whereas a statement might narrow down the participants' minds too fast.
What is the Pro-Action Café about?
The main 'mechanics' of the Pro-Action Café is like follows:
There are as many tables as topics can be dealt with during the session.
Tables are prepared with a big sheet of paper and different kind of pencils.
Each person with a topic chooses a table where he or she hosts the topic.
All the other people contribute by being guests at those tables for a defined amount of time.
We had four tables and did three rounds where everybody – except the table hosts – was encouraged to switch tables for each round.
Also each round had a guiding question:
What is behind the topic/question?
What is missing here?
What is my next step?
The closing question after the three rounds was: Which 'presents' did I get/find during the whole session?
For closing, we finally gathered in the big circle where we lifted off a couple of hours ago… and the table hosts first answered the closing question. Afterwards all the participants also had the possibility to answer this question as – for sure – you will take something with you even if you did not work on your own topic as a table host.
Personal insights & learnings on the Pro-Action Café method
My expectations for this evening
I went to Bregenz this evening to practice my listening skills and to tune my ability to observe the people I am talking or listening to. Also I thought I'll be open to anything that will happen there, be it a topic popping up in my mind or be it participating in other people's topics.
As there were more topics than tables and my mind also was bursting full with ideas/questions – but none appeared in the state to be presented/talked through – I was one of the participants wandering from table to table for each of the three rounds.
Which table to attend?
At first I thought I just want to attend "this single topic" that seemed to resonate the most with my current situation. But this topic's table was occupied instantly so I had to choose another topic & table for the first round. What a really interesting start.
Did I meet my aims for the evening?
First I listened a lot. And after a while I quickly thought that I may neither contribute there nor take something out for me & my life. For a second or two I even started regretting being here this evening! Then something changed: I started listening better to the table's host and her thoughts, her story, her answers to questions of another participant. There it started to get interesting. I happened to get to know myself even better during the evening. This came a bit unexpected!
Every topic of the three tables I visited had a connection to my own life – even I did not notice that before. Every topic I was able to actively participate in. For every topic I was able to even contribute to the process. And every topic challanged my listening and observation skills when it came to the table hosts and the other table's participants.
What I learned
So I did not 'meet' my aims and expectations "as defined" but I actually felt incredibly energized and mentally rich after the almost 4 hours of intense and meaningful conversation with so many different people. It was setting ideas, thoughts & feelings free. Letting stuff go.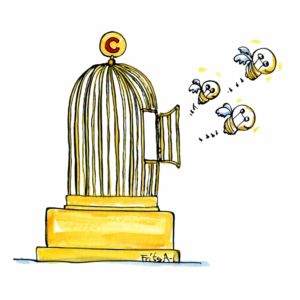 (picture credits: Frits Ahlefeldt, license: CC BY-NC-ND)
It also was: creating new 'things'. Being together. Even if we did not know each other before this evening!
This is the feeling & mood I will try to grow further. It will for sure influence further interaction with 'known' and new people.
One surprise: Talking about Agile
And I also was surprised that Ursula knew a lot about agile methods and elaborated on the benefits that Art of Hosting methods have on the 'agile stuff' from her experience. Concerning my business focus, this was extremely exciting for me!
And you?
So (agile) folks out there who are reading my post: which touch points do you have with conversation methods, with Art of Hosting & everything agile?